Welcome to The Berkshire Galleries of Great Barrington, (formerly the Great Barrington Antiques Center) the premier antiques and design destination in the Berkshires. We are excited to create an extraordinary shopping experience for antiques lovers of every stripe! Our 5,000 square foot showroom will feature everything from country to formal to modern, as well as fine art, prints and antique oriental carpets. Whether it is antique furniture, works of art, or unique collectibles, you will find it all and more at The Berkshire Galleries. Conveniently located between downtown Great Barrington and Sheffield, Massachusetts, our 5,000 square foot, multi-dealer antique shop is open seven days.
As our inventory of antiques changes constantly, we encourage you to stop in often. In addition, we have thousands of items in our shop, so please make it a point to stop in when in the Berkshires. For the novice to the advanced antique collector, we carry one of the largest antiques and collectibles inventories in the area. You will also find our antique shop well-lit, making your antiquing experience a pleasant and memorable one.
In addition, our staff is friendly, knowledgeable …and ready to assist you should you need help or have any questions. The Berkshire Galleries of Great Barrington is handicap accessible, has plenty of free parking and accepts cash, checks, credit cards and debit cards.
Check out our latest Ad in the current issue of B Magazine!
We're happy to welcome Peter Jung Fine Arts to the galleries.
To celebrate, we are curating a very special collection and show featuring antiques, decoration, art and jewelry from our select group of vendors.
We encourage you to visit us en route to Brimfield. We are a quick detour from the MA Pike in either direction.
Be sure to preview our exciting new loft-like space beginning 9/1 through 9/14. We will reopen the expanded galleries 10/1 with new vendors
There is ample parking for all vehicles and a convenient loading dock!
We are open 7 days a week from 10 – 5. However, we are happy to arrange an appointment for your convenience.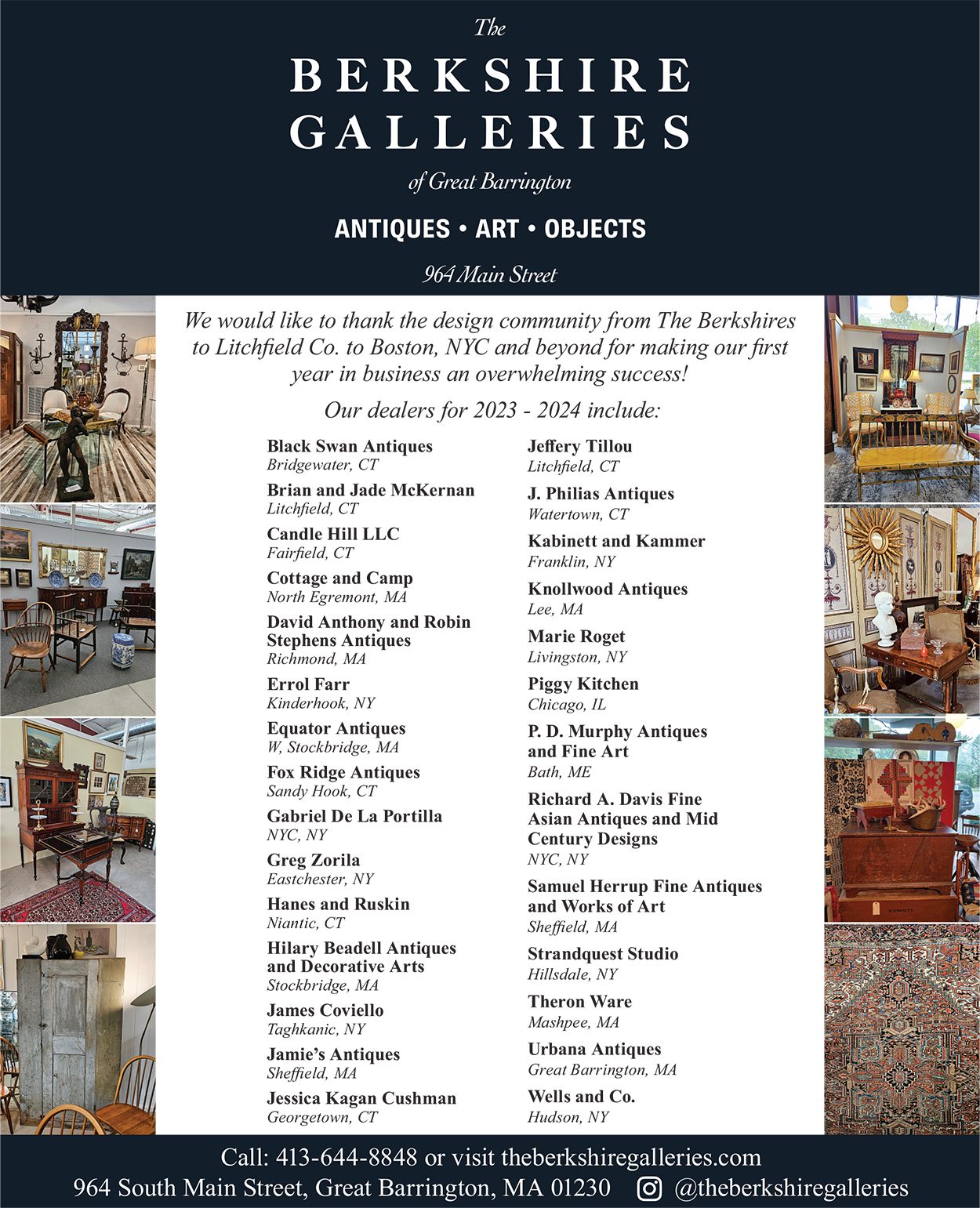 The Premier Antiques And Design Destination In The Berkshires